Apr
15
Baby Doll was a extremely controversial film in its time. It was directed by Elia Kazan, a two-time Acadamy Award winning stage and film director, who had worked with Tennessee Williams' work before on stage and film with A Streetcar Named Desire. The script was a collaboration between the two, loosely based on Williams' play 27 Wagons Full of Cotton. A film like Baby Doll would never have been made 10 years before. Though the film was made in the late 1950s, which were the days when the Hollywood production code was waning, Williams' southern gothic tale caused a immense stir when it was released.
The film is the story of Baby Doll, the young wife of Archie Lee. Lee is a cotton gin owner whose business is suffering because of a sleazy rival gin owner named Silva Vaccaro. Silva is a Sicilian-American from Texas who comes into this small Mississippi town to open a Syndicate Gin which runs all of the other cotton gin owners out of business. Archie Lee burns down Silva's gin, and Silva seduces his wife, Baby Doll, to get her to sign a confession saying that Archie Lee did it.
Like many of Williams' stories Baby Doll is filled with sexual tension and inneundo.  A lot is done with suggestion as in A Streetcar Named Desire, where things aren't really overtly said. There is a scene early in the film where Baby Doll is taking a bath and her husband Archie Lee comes in. The two have an agreement that they will not have sex until her 20th birthday, which is only days away. The film reveals shots of Carroll Baker, who played Baby Doll, in the bathtub, but when Archie Lee enters the bath rooms the camera lingers at the doorway. In this shot the bathtub is out of frame. The viewer doesn't see what transpires between the two of them, but water begins to splash on the bathroom wall and Baby Doll starts screaming. When she reenters the frame Baby Doll looks startled and threatens to move out if he keeps trying to break their agreement. When the camera cuts to Archie Lee his face is wet and he has a look of satisfaction on his face.  It is what you don't see that makes this scene more interesting, enticing and filled with sexual tension.  And there are many others.
Later, after Archie Lee burns down Silva's gin and Silva goes to his house to use his gin. One can assume that was Archie's plan all along. Archie introduces Silva to Baby Doll, he asks her to keep Silva company while he is ginning out Silva's cotton. In this scene, it is almost as if Archie Lee is offering her to Silva and sexual chemistry here is immediate.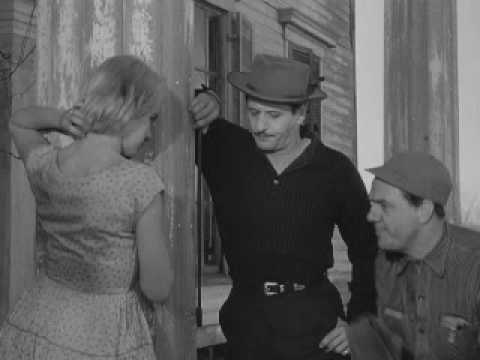 This is the beginning of the long seduction scene between the two of them. They end up rocking in the swing in the yard. Baby Doll is innocent and virginal in her white dress, while Silva is wearing is wearing all black making him appear somewhat sinister. The tension is pressed further when Silva moves his hand along her neck and sits closer to her. The camera focuses on the two of them in the swing together. The close-up of the two of them creates a more sexual tension for the viewer. In this scene, the way the camera is angled Baby Doll takes up most of the screen with Silva lurking beside her and his hat creating a shadow on his face while Baby Doll is nearly washed out.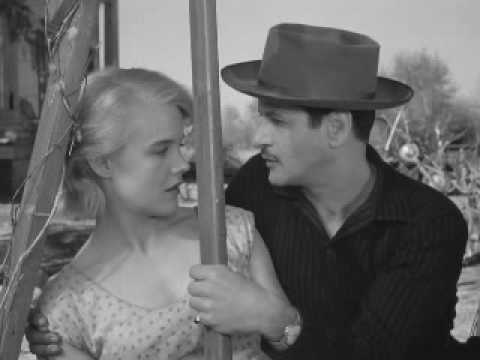 Baby Doll was released in 1956 and was the topic of much discussion. The film received the Code Seal, but was condemned by the Legion of Decency. On December 16, 1956, Francis Cardinal Spellman publicly spoke against the film on the pulpit of St. Patrick's Cathedral in New York. He had not seen the film, but knew of its nature and encouraged "good" Catholics not to see it. The film was taken out of many theaters across the country and was not a financial success, but the next year it garnered four Academy Award nominations.
However, while the church was remaining staunch in its values, Hollywood was changing. That same year the Motion Picture Association of America made changes to its Production Code. "The Code was given not just a tune-up but a major overhaul," (324) writes Thomas Doherty in Hollywood's Censor. Bans on subject matter such as illegal drugs, abortion, and kidnapping were lifted. Ironically, Baby Doll would not have been approved by the MPAA after these new changes, without some alterations. Though restrictions on plotlines were loosened, a new provision was added eliminating the use of offensive words. Prohibited words such as "nigger" and "wop" are both used in the film.
Hollywood was changing and the Production Code was becoming more and more obsolete. Doherty writes: "Since 1922, compromise, capitulation, and abject fear had defined the relationship between Hollywood and the moral guardians of America culture; from the mid-1950s onwards, resistance, defiance, and cynical exploitation would become the rule" (327). It was a new time and directors like Elia Kazan wanted to bring challenging and complicated themes to the cinema. In a 1966 interview with Michael Delahaye, Kazan said "when one troubles professed values—officially professed by a group, by a society—people no longer know at all where they are. They do not want to see life as complicated, as confused, as it is. They do not want to confront it as it is." (Elia Kazan: Interviews 93). Sex, desire and passion was apart of life that many didn't want on the screen at the time, but artists like Kazan and Williams pushed boundaries of what was acceptable.